This month's small business profile features The Food Shoppe – a restaurant based in Atlanta, GA serving authentic Louisiana cuisine. Not yet a year-old, this small business is growing in leaps and bounds so much so that they are already faced with the real possibility of having to hire more staff and open additional locations to successfully manage this rapid growth.
But owners Ronald and Angela Montrel are not complaining – growth is a welcomed "problem" to have and they, along with their head chef, Alvin Broussard, have collectively created ingenious ways to meet a surging customer demand that accomodates their physical location as well as staff size.
Laissez Les Bon Temps Rouler
My first experience at The Food Shoppe was nostalgic. I remember it well – my husband and I had just left a play at a local theatre and were desperately in search of food. Down the street from the theatre we noticed a building with an awning displaying The Food Shoppe's logo replete with outdoor tables and chairs and a stand-alone chalkboard advertising the food specials of the day.
After examining the contents of the chalkboard, we chuckled and with a sly grin I turned to my husband and said, "Looks like another restaurant attempting to cook Louisiana food!" We decided to walk inside the restaurant anyway and any doubts we had about the food's authenticity quickly faded. Alvin warmly greeted us and asked if we would like to sample anything from the menu before placing an order. There was definitely something familiar about him, the decor and the overall ambiance. After taking him up on his food sample offer, we enthusiastically placed our order and later confirmed that we are all from Louisiana and even know of some of the same people and places in New Orleans.
New Orleans, LA is known as the "Big Easy." It's a geographically small city with a big reputation for good food, good times, its unique Creole and Cajun sub-cultures and overall atmosphere of, as Ray Charles sings, "let the good times roll" (the English translation for the Louisiana-French adage, "laissez les bon temps rouler"). Like New Orleans, The Food Shoppe is small in physical size but has already developed a big reputation for fresh, flavorful and convenient food.

Location, Location, Location
Serving great food is just one factor in the The Food Shoppe's success equation. Their physical location is another factor.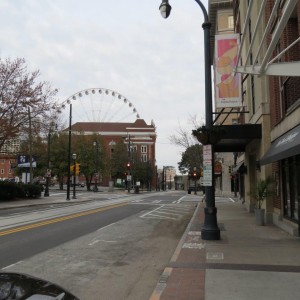 Nestled in the heart of downtown Atlanta, The Food Shoppe is just a few blocks or in some cases, down the street from:
This gives The Food Shoppe access to a diverse customer base of sports fans, corporate executives, tourists, artists/entertainers and students. Even more important than its physical location is its intermodal accessibility by car (there are parking lots directly across their building), train (a MARTA station is nearby) and a newly installed trolley line running directly in front of their storefront on Luckie Street.
The Way to a Customer's Heart is Through His Stomach
"It's all about having a quality, consistent product," boasts a proud Alvin as he explains why customers rave about The Food Shoppe. Perhaps one of the most impressive things that struck me is The Food Shoppe's food sample marketing strategy. This "go to the gemba" approach involves them walking directly up to passersby on the sidewalk, potential customers in nearby hotels and construction sites and offering samples of their food. This gives them the primary market research necessary to determine whether or not to make adjustments to their menu and/or price. This combination of promotion and research is a small price to pay that yields handsome returns on the investment of the ingredients and time needed to make the food to sample.
In fact, sampling is an strategy I believe all small businesses should consider adopting – even for those providing a service. The best way to showcase your product or service is to allow people to experience a sample of it whether it be a free consultation, a taste test, a test drive, a book preview, etc. And the customers certainly seem to appreciate being able to "try before they buy."
In just a few hours visiting The Food Shoppe, I saw an endless line of customers walk in and leave out with their convenient "walk-and-eat bowls" that The Food Shoppe is known for. Food is packaged in such a way as to make it easy for the downtown work crowd (whose lunch break can easily be consumed with long walking distances and wait times at other restaurants) to place an order via phone or in-person, wait no more than 10 minutes to receive their order and literally walk while eating their food and easily dispose of the bowl or container once they are finished eating. Every time I visit The Food Shoppe, I can't help but think of Chipotle and their successful, privately-held franchise model of providing a quality product using fresh, local ingredients served in convenient packaging at affordable prices.
A Family Affair
The last factor in the formula for The Food Shoppe's successful growth is there structure as a family owned and operated business. Ronald and Angela make a powerful husband-and-wife team supported by cousin, Alvin and a host of other close family members. The business is definitely an extension of family and lends itself to their warm customer service.
The Formula for Success Can Also be the Perfect Storm
As a recap, The Food Shoppe's formula for successful growth is:
Successful, Fast Growth =

+ Quality Product
+ Convenient Location
+ Consistently Excellent Customer Service
+ Efficient Delivery
+ Committed Workforce
= ↑ Customer Demand
You may be thinking to yourself, "this formula seems pretty straightforward. Any entrepreneur with common sense knows this, right?" Well, it all depends on how you look at it. Fast growth is certainly a sign of success, but too much growth too fast can be overwhelming for any small business. With fast growth comes an increase in customer demand. The rate at which customer demand increases can place unexpected strains on a small business including:
backlog of customer orders leading to longer wait times
compromised and/or inconsistent quality of food
infighting amongst family members
price increases in utilities and inventory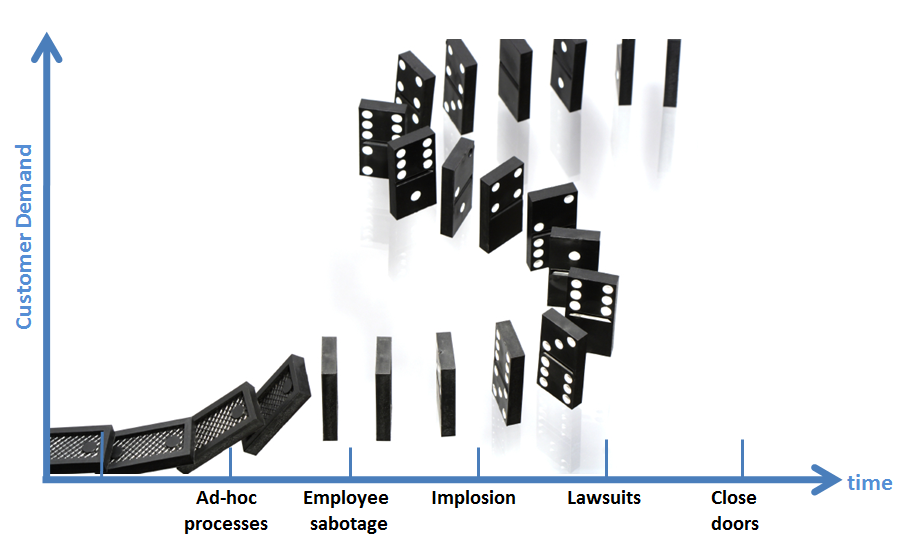 Thankfully for The Food Shoppe they have thought through many of these growth challenges and are actively developing plans for mitigation. This is already evident in their commitment to reduce costs without disrupting the balance in their success equation. For example, the usage of styrofoam cups, plates and bowls along with plastic utensils significantly minimizes their water usage since they do not have to physically clean serving dishes. It also cuts down on dinnerware inventory that can be expensive to replace once damaged or broken.
More importantly, they have turned what some may view as liabilities (limited eating area, small kitchen) into assets that allow them to flourish. Like Chipotle, the more money they save, the better equipped they are to invest in a business infrastructure that will allow them to replicate their business model as they open additional locations.
A Business Infrastructure Solution to Facilitate the Fast Growth
So, how can a small business like The Food Shoppe use business infrastructure? Here's my recommended action plan:
…………………………………………………………………………………..
How has The Food Shoppe inspired you to manage your company's fast growth? Please share your ideas and questions in the Comments section below!
The Food Shoppe is located at 123 Luckie Street, Suite 108, Atlanta, GA 30303.