Recognizing you need an extra pair of hands to help in your business is a good sign! It may mean that your business is growing so much that you need to start delegating more work. It could also mean that you now have the money to comfortably pay someone else to do the things that you admit you either don't like to do or just aren't qualified to do.
Whatever your reason for needing to hire, a crucial first step is to identify all of the tasks that you will eventually hire someone else to do. Take a look at How To Execute a Job Task Analysis in a Small Business post for a refresher. In fact, pay close attention to Step #4 in the Setup Steps section of that post.
Good Help is Hard to Find
My experience is that oftentimes us entrepreneurs don't do sufficient research necessary to assist us in finding "good help." We just know that we need help and more often than not we don't have a whole lot of time to recruit, interview and perform background checks either. Sadly many of us end up settling on the first person who says they can help us.
Sounds grim, but there is hope! A solid job description can serve as the ammunition needed for attacking our impulse to just hire the first person who expresses an interest in working for/with us. The reality is that often times we do a good job at hiring the wrong people because we have not put in the research and effort to identify what our company needs.
For example, I had a client once who became adamant that his company needed an internal CPA. I thought that was interesting considering he has a small business. When I asked if he was willing to pay the "going rate" for a full-time CPA, his enthusiastically replied, "yes, of course!" The enthusiasm waned once we started researching the average salary of a CPA. He realized he could not afford it. What he could afford was the continuation of outsourcing key financial and accounting needs to his existing CPA and hire a bookkeeper part-time so that he and his partner could focus more on marketing their business.
Getting Started
Identify all tasks that need to be delegated.
Assign those tasks to a specific role or position.
Research potential job titles for that role/position.
Determine the type of position (see next section) based on company budget.
Download and customize a job description template.
Spread the word amongst your network that you are seeking to fill a position.
Types of Positions
Who you hire is largely based on the expected pay for a particular position you are looking to fill. Your company's budget will dictate the type of position. For example, can you afford to pay someone on an hourly, salary or commission basis or some combination of the three? Types of positions can include:
Volunteer
Intern
Outsource Consultant
Independent or Freelance Contractor
Part-time Employee
Full-time Employee
What a Job Description Looks Like for a Small Business
Keep the structure of your job description simple. I recommend using the same template regardless of the type of position.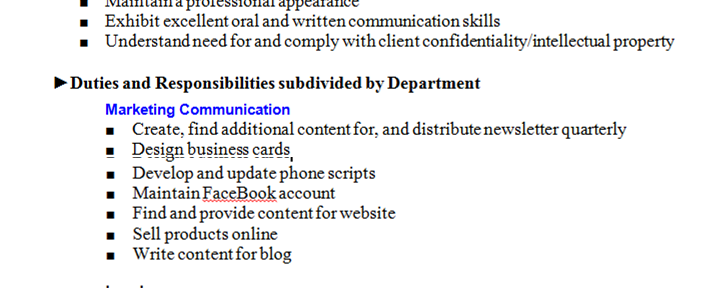 There are certain elements that every job description should have:
| | |
| --- | --- |
| Header | Include your company's name or logo. |
| Brief Description of Role | Include two to three sentences explaining the nature of the role. If you have trouble coming up with the right language, leverage the Dictionary of Occupational Titles as a free starting point. |
| Company Background | Include a brief description of your company. This might be a good place to tell potential candidates the age and culture of your company. That way, you minimize surprises when conducting interviews. |
| Qualifications & Skills | Include the soft and hard skills you expect a candidate. These are skills that you believe will best benefit your company considering the position type and pay rate you are offering. |
| Position Requirements | Include basic expectations the candidate is expected to adhere to. Examples include dress code, virtual workspace setup and general attendance policies. |
| Duties & Responsibilities | Include the listing of tasks identified during the Business Parts Analysis exercise that apply specifically to the job description's position. You can also include a list of these tasks by department, if applicable. |
| Position Type & Pay Rate | Include the type of position (see the position type table above), expected number of hours to work within a week or month and the pay rate per hour or by salary (for employees). |
| Disclaimer | Include information that limits your risk and liability in errors and omissions. In the example job description above, the Oxygen Company felt it was necessary to tell candidates about their fast growth. This not only helps to level set expectations for the work environment for the potential candidate but it also legally protects the company should they be accused in the future of omitting key information about the position and the company. This is also a great place to put information about being an equal employment company that does not discriminate based on race, religion, creed, ethnicity or origin. |
| Footer | Include information that helps keep track of the latest version of each job description. |
Free Template to Download
Click here to download a free job description template that you can customize according to your small business needs.
Do you have questions about using this template? Feel free to send me an email, a tweet or leave a comment below so that I can respond. Best wishes to you as you build the right team for your business!