Michael Avenatti, Elizabeth Holmes, Felicity Huffman, Robert Kelly, Robert Kraft, Michael Jackson, Lori Loughlin, Billy McFarland, Jussie Smollett…
As the first quarter of 2019 comes to a close, the above people have all had their images marred by allegations of fraud, scandal and/or deception. 2019 seems to be shaping up as the year of exposure.
There are two people in particular (and their respective companies) I've been studying from a business infrastructure perspective. Let's take a closer look at Billy McFarland and Elizabeth Holmes.
Tale #1 – Fyre Festival: the Façade and the Fury
Billy McFarland had a grand vision to create the world's first luxury music festival – Fyre Festival.  Armed with supermodels, a famous rapper, innovative web technology, and an investor with deep pockets, he seemed positioned to achieve what industry insiders described as the "impossible."  Sadly, it turned out to be just that.  Impossible.
Although he raised over $25 million in funding, Billy's staff warned him of the timing allowed to accomplish the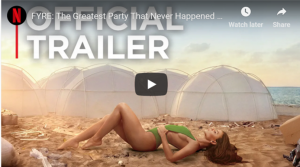 festival's setup.  As the technical team's warnings grew, so did Billy's encouragement for the marketing team to promote and sell services that did not exist – all in an attempt to stop the financial hemorrhaging and create the illusion that all was well with Fyre.  Ultimately, attendees arrived in Great Exuma, Bahamas for the "experience of their lifetime" only to find that there were no luxury villas nor stellar entertainment.  In fact, they arrived on an uninhabited island without electricity, adequate plumbing, sufficient food, or safe and sanitary housing.  In Jan. 2019, Netflix released a documentary describing how duped attendees, unpaid construction workers, and customs officials, among many, all threatened to revolt.
In the following interview, former Fyre Festival employee Marc Weinstein shares more details…
Tale #2 – Bad Blood Boiling Behind the Facade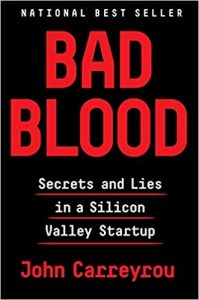 At age 19, Elizabeth Holmes dropped out of Stanford University.  With only one year of chemical engineering courses under her belt, she felt she had all the coursework (and gumption) needed to start a business to revolutionize blood sampling and diagnostic testing.  Her company, Theranos, invented a machine that purported to run over 200 tests from a tiny blood sample obtained by pricking one's fingertip. She even poached key people from Apple and had a board whose list read like a Who's Who of political magnates.
At one point Theranos was worth up to $10 billion and Forbes once named Elizabeth "America's richest self-made woman."  But trouble was brewing – employee turnover increased, patients were misdiagnosed, and a partnership with pharmacy retail giant, Walgreens, ended.  Behind the façade of intellectual prowess, investigative journalist, John Carreyrou, exposed that the technology, in fact, did not work and eventually all hell broke loose.
In this interview, Carreyrou explains the details…
Checks, But No Balances
Like anything not built on solid ground, the houses of cards known as Fyre and Theranos came tumbling down.
Based on publicly available information, there were a number of factors that contributed to their respective demises.  From a business infrastructure standpoint, the facades seemed to show that each company had all the necessary ingredients for success:
Good, Smart, Capable People.
Cutting edge tools and technologies.
Processes to get things done.
So, what went wrong?
Several things, lack of transparency is just one.  The employees of both companies accused Fyre and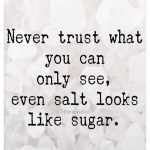 Theranos of operating in silos, making it difficult for problems to surface quickly.  There were also problems with the revolutionary technologies touted by both companies.  And though there were processes, there was no quality assurance and reported problems were either met with avoidance, lawsuit threats or job termination.
Though the individual elements of business infrastructure were there, neither company actually linked them together.  Had they done so, things would have fallen apart a lot sooner and the conversion of checkmarks into red flags more obvious.
Removing the Mask
One way to create transparency is through dashboards.  A dashboard gives a summary of a company's overall state across every area of the business.  Dashboards, when created and shared frequently, can alert leaders of impending danger and allow time for course correction.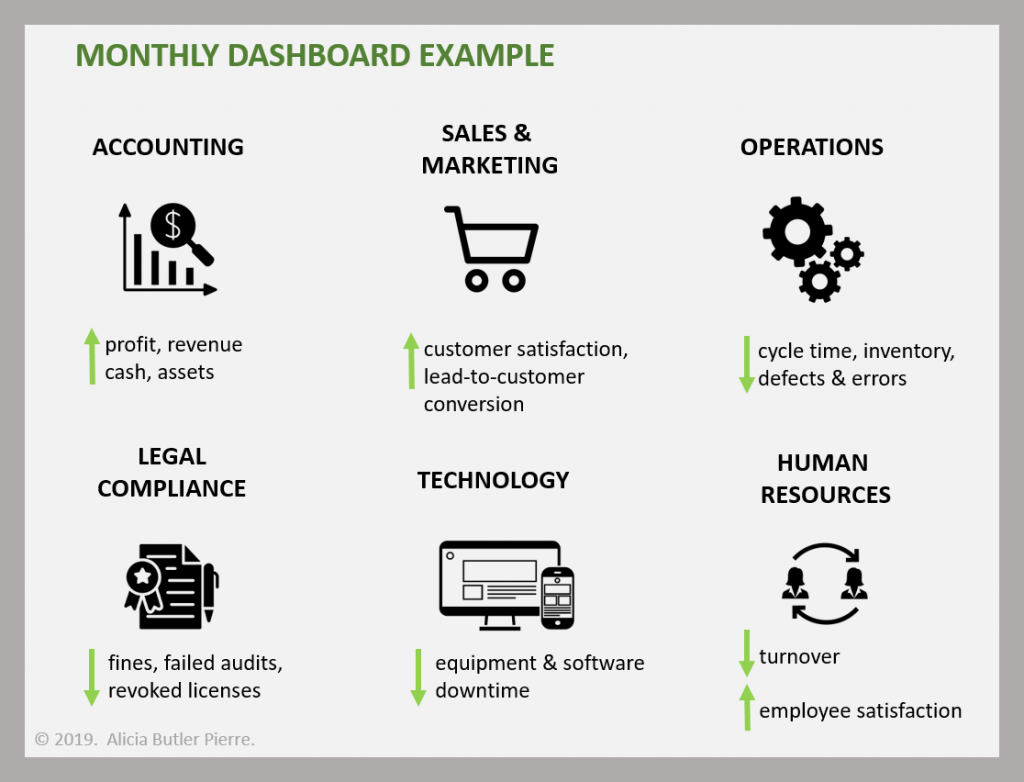 Here are some steps you can follow to create your dashboard:
Document your company's processes.
Assign metrics to assess process performance.
Roll-up key metrics into a dashboard.
Monitor patterns and trends monthly.
Improve operations and make changes as necessary.
The more visual a dashboard, the greater the likelihood you will be able to look for data patterns and trends.  For example, reporting total revenue every month is not as effective as reporting that number plus having a bar chart or line graph to show if revenue trended up or down in comparison to previous months.  You should also aim to keep the dashboard to one page.
Below is a brilliant infographic produced by idashboards.com that can help you determine the best graphic to illustrate data in your dashboard.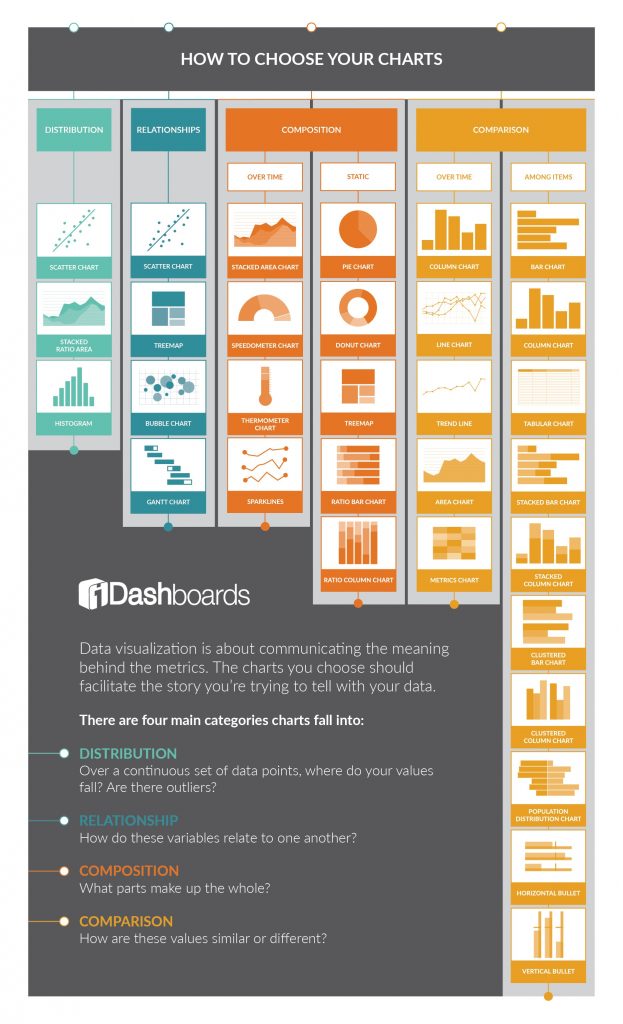 Business Infrastructure is No Silver Bullet
As great a tool as dashboards can be, they are only as effective as the leadership who takes heed to the red flags.  Monitoring metrics doesn't mean you should create an Alcatraz-like environment, but it can ensure that you keep your promise.
Even with linked people, processes and tools like dashboards, business infrastructure cannot cure egotism, megalomania, and arrogance.  There's nothing funny about creating a façade that you can't operate to.  Many of Fyre and Theranos' victims experienced irreparable harm to their health, finances, and more.  At 31-years-old Elizabeth Holmes, if convicted, could serve up to 20 years in prison for fraud. Billy McFarland was sentenced to six years in federal prison.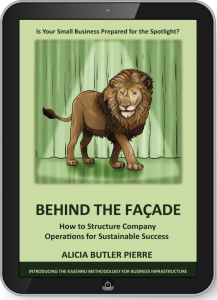 Of course, this can all be avoided.  If you need more time to ensure your business promises can be met, then say so.  Better you save face, than save a phony façade.  Keep your good reputation intact and strive for style and substance.  There's no need to deceive in order to succeed.  Learn from these two cautionary tales – veils of secrecy are not the same as trade secrets.
This is exactly why I wrote Behind the Facade: How to Structure Company Operations for Sustainable Success – to show that you don't have to deceive in order to succeed.  It's possible to build a company that operates on the inside just as well as it looks on the outside.  Pick up your copy today!