We have a new category of blog posts: The Listen & Learn series!
This series is all about providing you with an audio tool for listening to practical tips on business infrastructure and applying it to your small business.
Now you have the option of being able to listen to this kind of information instead of having to read it.
The Listen & Learn series is based on my new podcast, Business Infrastructure: Curing Back Office Blues with weekly episodes.  Go ahead and listen to the first episode:
What is Business Infrastructure and Who Are You to Tell Me About It?
Business infrastructure is a system that links a company's organizational goals with the people, processes and tools necessary to support those goals in a profitable, scalable and sustainable manner.
We all know the importance of marketing and growing your business, but what happens when the dollars you've invested in marketing are paying off and you have more business than you can handle?  It's a perfect time to start looking at the operations of your business and making sure you have the infrastructure in place to support that growing demand.
That's what this show is all about – the often overlooked and rarely talked about subject of the nitty gritty details of your business' proverbial "back office."  In this first episode, I explain exactly what business infrastructure is.  I also share my journey from Chemical Engineer to entrepreneur and advocate of operational excellence in small businesses and how it led me to begin spreading the message of business infrastructure across the globe.
****
Like what you heard?  Download the episode and subscribe to the show.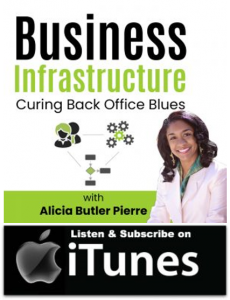 Got a question about something you heard?  Leave your question and feedback in the comment section below.  I'll be sure to respond.
Thanks so much for sharing in this new series with me!  It's only going to get better – I promise!