When news broke of musical legend Prince's death, my sister immediately texted me.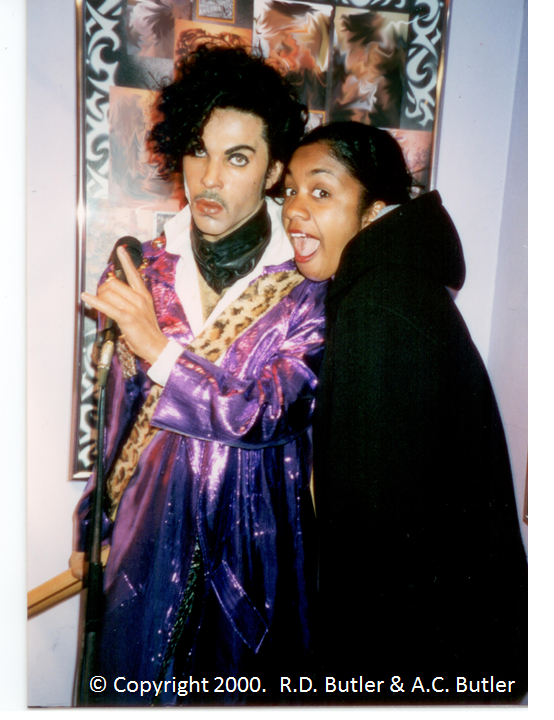 I recalled the time she took a picture of me standing next to a wax figure of Prince at the Madame Tussaud's museum in London.  Growing up we affectionately referred to him as "The Purple One" and "His Purpleness".
Although I'm being silly in this picture, make no mistake, I'm a huge fan – not only of his music but also of his business acumen. Prince successfully operated under the premise that:
"show business is 10% talent, 90% business"
I think this formula applies to many industries. It takes more than creativity and tenacity (10%) to "make it" in business. You also need business infrastructure (the remaining 90%).  The formula for being (and staying) on top of your game looks like this:

Legal Knowledge – 30%
Know and understand your legal rights in business.  Prince understood intellectual property law very well. Throughout his career, he fiercely protected his image and music copyrights. It's the very reason I chose to use a picture of me standing next to his wax figure as opposed to an actual image of him.
Study the laws surrounding your business and secure protection
Act promptly and unapologetically when your protection is violated
Asset Investments – 30%
Invest in only the best.  Your business is a reflection not only of you but also of the people and technologies you invest in. Prince continuously invested in his craft, his band and his support staff as evidenced by his custom-built studio, equipment and ironclad contracts.
Understand who you need to hire and secure top talent
Upgrade technologies to drive efficiency and enhance work performance
Quality Assurance – 30%
Expect only the best from yourself and your team.  You might make some enemies in your pursuit of quality and consistency. Prince changed his band several times over the course of his career, yet the quality of his music remained intact.
Get quality assurance processes in place across all aspects of your business
Guard your business, your reputation and your brand like a hawk
So, what does this mean for you as an entrepreneur or small business owner?
You too can reign supreme in your industry but it will take more than sweat equity.  Keep pushing yourself and ascend to higher heights. Act fearlessly. Don't be afraid to replace people, tools and processes that consistently under-perform. Design a business infrastructure to stay on top of your game and preserve your legacy of excellence.
Celebrate your successes and when you do, "Party Like It's 1999"!  You can even assign a color to your success.  Prince's color is purple, mine is green.  What's yours?
Work with us both on your journey to success and maintaining it.  Schedule a free one hour consultation.