#2. Seiton (Straighten)
What it Means
"The devil is in the details".
That is, the decision to overlook or ignore seemingly trivial details can come back to haunt you. Once items are sorted and decluttered, it is necessary to straighten the items that remain. This goes beyond physically or digitally organizing workspaces, files and other assets. The key component of seiton involves structuring the workspace and everything in it in such a manner that business processes can continuously flow with few if any impediments. This is known as creating a one-piece-flow in companies operating in a lean environment.
How Dance 411 Studios Applies It
Once DFS sorted through their entire facility, they took inventory of all remaining items. Based on their organizational growth goals, the owners began to discuss how to setup the existing and newly cleared out rooms and offices. By taking the time to illustrate their growth goals in an organizational chart, DFS considered the optimal spatial arrangement of their staff and office space in relation to the studios.
Next, they shared the Work Space Logistics and Paper Records Management plans with the same team that helped them with the sorting process. Getting their feedback was critical in not only gaining their buy-in but also in soliciting additional, fresh ideas for re-purposing the various rooms. As a result, DFS created a new conference room, a security management area, an office for H.R. and accounting activities and a newly organized supply room where equipment and supplies are all labeled. Go to page 4 to find out what happened next.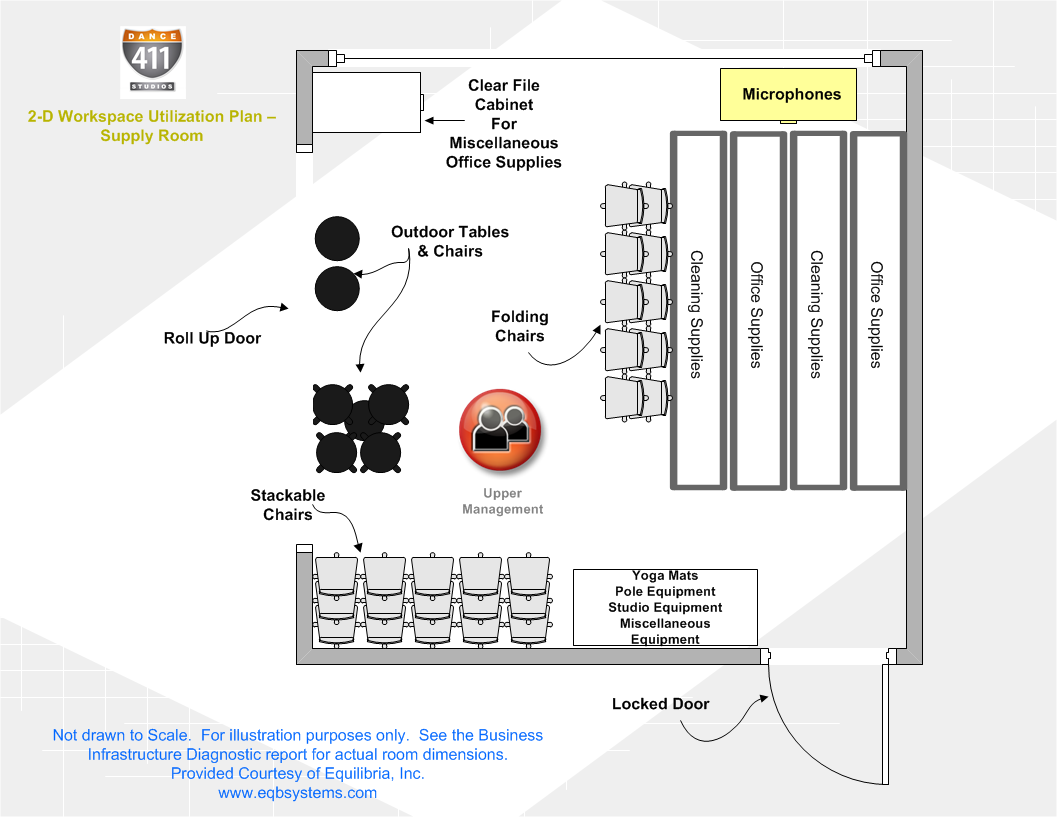 Benefits
Transparency through plans, organization and labeling. DFS' entire facility is easy to navigate and their staff can quickly locate various assets needed to perform their duties.
Easy onboarding experience. DFS hired a new office manager shortly once their 5S program was in place. Having an office already setup with paper files labeled, supplies on-hand and a digital records management plan documented greatly streamlined the onboarding process.