"If a picture is worth a thousand words, then a video is worth a thousand pictures."
A videographer once told me this.  At the time, I chalked it up as being part of his sales pitch.
I've since come to appreciate that he is absolutely right!
Based on my studies of educators, scientists and learning specialists, a substantial portion of the human population are visual learners.  "Visual learners best process and interpret information when they are exposed to images, illustrations, pictures and other visual media."
While I've always recognized the importance of creating presentations, blog posts and newsletters infused with images, I've admittedly been a late adopter of video.
Until now!
I'm proud to announce the official launch of my company's YouTube channel.  This addition rounds out a multi-media experience for you as a loyal and dedicated visitor to this site.  Here, you will have the benefit of both audio and visual learning.
A Primer on Business Infrastructure
The following playlist contains six videos that answer the who, what, when, where, why and how of business infrastructure – an excellent primer to get acquainted with key concepts.
Show & Tell Videos
For several months, many have reached out asking how I do certain things.  These FAQs actually served as the first round of Show & Tell videos where I demonstrate some of the systems I use to keep me on track with daily operations.
The following playlist contains four of those videos:
How to Scale Your Business Operations for Success – 5 Must Have Books
How to Create an Online Content Calendar
How to Create a Tickler File System…Never Show Up Unprepared or Late for a Meeting
How to Organize & Pay Your Bills on Time & Increase Your Credit Score
As you watch these videos, keep in mind that, in some instances it's taken me months, sometimes years to fine-tune these processes and systems.  You get the benefit of bypassing that hard work and making tweaks to customize your own solution.
Reviews & Feedback
People are already noticing the videos!  Below is a snapshot of some of the positive feedback I've received.  Leaving reviews and feedback is important because it not only lets me know a video's effectiveness, but it also lets me know what types of videos to produce.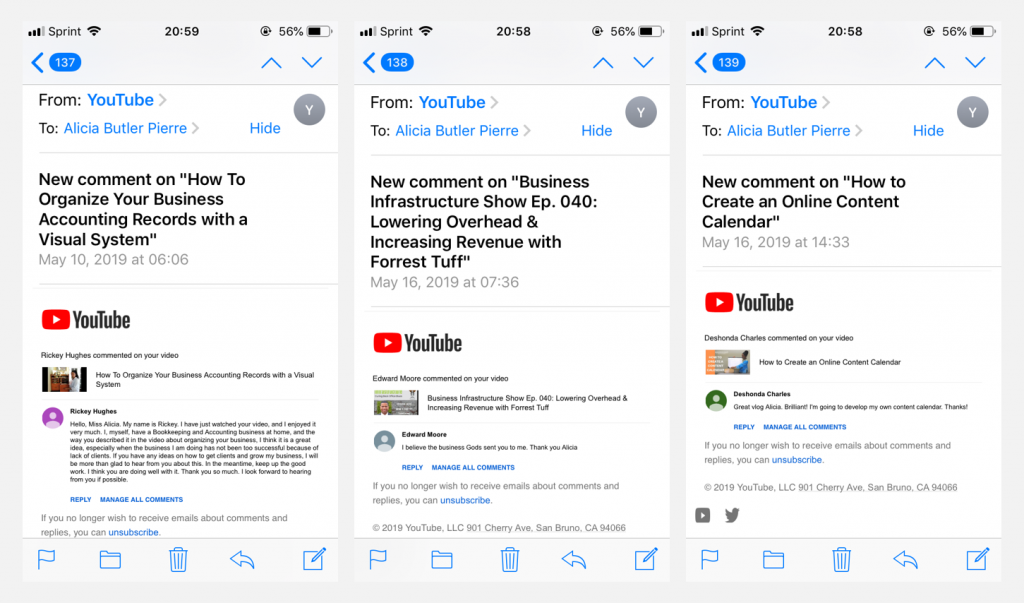 To keep up the momentum, I'm asking you to:
Visit the channel and SUBSCRIBE!
Leave a comment on those videos that resonate with you.  
Share with your staff, colleagues and business friends.
 In return, I'll continue to crank out videos.  Let me know if there's a certain demonstration or concept you'd like to see me explain.  
Remember, you can Contact Me if you have questions about any of the information that you see or hear on this new YouTube channel dedicated exclusively to business infrastructure.