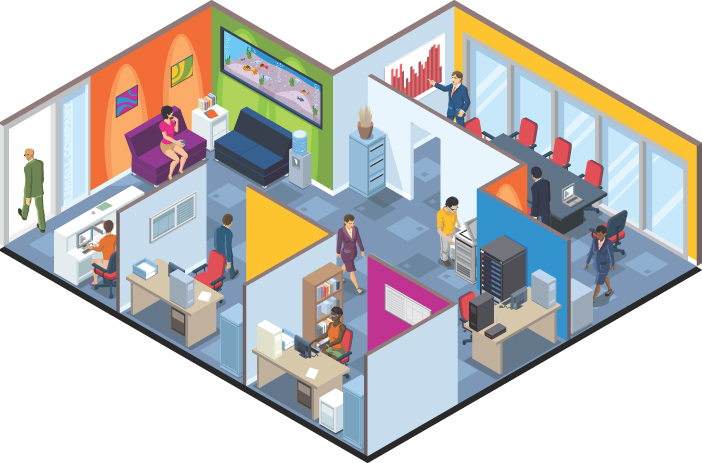 It's a fact that most working Americans spend more time at their office or workspace than they do at home. According to recent scientific studies, the actual layout of a work space directly affects productivity, job satisfaction and profitability.
This article focus on how to organize your small business/workspace with a Work Space Logistics (WSL) plan that considers the proper placement of:
This article does not cover the effects of lighting, noise, and cognitive or physical ergonomics in maximizing work productivity.
Value of an Organized Office/Workspace
By carefully planning and organizing your workspace or office, you can:
create clutter-free and open offices/work stations that maximize floor space and encourage productivity
increase communication amongst staff with similar jobs
use intelligent workspace design to improve perceptions of your company's image to clients as well as staff
What it Looks Like (for Illustrative Purposes Only)
Workspace is segmented and organized according to the company's departments (as previously identified in the Job Task Analysis. Each office is measured and drawn to scale on paper. Anything that takes up physical floor space is shown on the space plan and is conceptually re-arranged until the optimal location is discovered, taking into account the actual flow of information amongst current and anticipated future employees.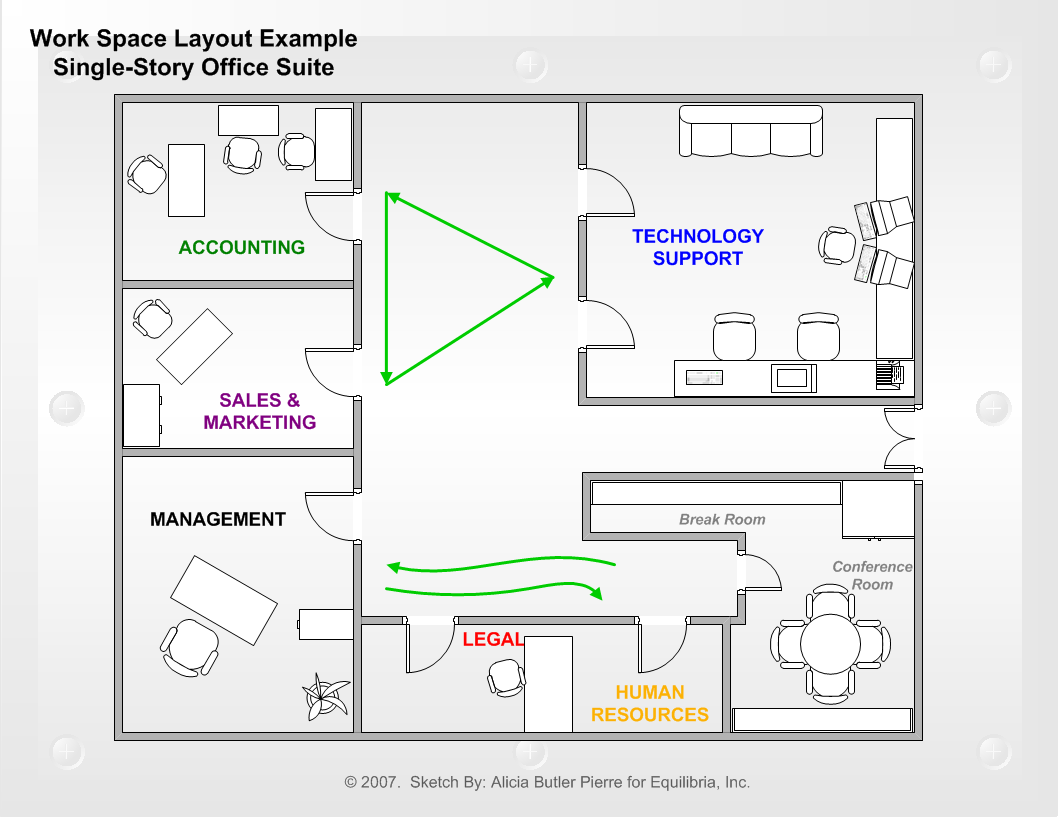 In the example sketch above, I drew a single story office suite to scale (using MS Visio) for a small technology company. Each room is devoted to a particular department of this company based on the activity that takes place within each office and the respective space that is required for staff to efficiently perform their duties.
The Logic: as a new sale is made in the Sales & Marketing department, that information is relayed to the Technology Support department who then reports project completion to the Accounting department where final billing is sent to the customer. The Accounting department informs the Sales & Marketing department once the customer pays the invoice. From there, the Sales & Marketing department processes this information for account management purposes in the hopes of generating additional sales and so the cycle continues. This explains the triangular flow of information shown on the diagram.
Similarly, the Management, Legal and Human Resources departments are situated in a linear path to allow for easy face-to-face communications. Last, the conference room houses manuals, books and periodicals that can be accessed by any staff member. The conference room allows for a single place for all staff to converge and communicate with each other. When this space is not used for meetings, it also serves as a place to quietly sit and conduct research.
11 Steps to Organize Your Office or Workspace and Create a WSL Plan
Assign a name for each office or anticipated work station onto separate sheets of graph paper. Measure each office or anticipated work station and draw the overall dimensions to scale on the graph paper. It is important to draw to scale to ensure that your layout plan is realistic. Depending on the complexity of your office space and your company's anticipated need for blueprints, you might want to enlist the services of an Interior Designer or Architect. You can also use free apps like Google's SketchUp to create more professional layout diagrams on your own.
Take an inventory of all personnel, equipment, furniture and fixtures that require or are expected to consume physical space for your company. Record this information in the left hand column on another sheet of paper.
Reference your company's organization chart to assign current and future office occupants to certain workstations/offices. Write the name(s) of the occupant(s) onto the appropriate sheet of graph paper (from step 1).
Reference your company's service delivery process to determine which offices or work stations should be situated in close proximity to maximize information flow.
Measure all furniture, equipment and fixtures listed in the inventory (from step 2) and record their respective measurements next to each item.
Assign each piece of furniture, equipment and fixture to the appropriate office or work station.
Draw (using to-scale measurements) and spatially arrange the furniture, equipment and fixtures anticipated for each office or workstation.
Determine whether or not you have enough space to accommodate the assigned furniture, equipment and fixtures in each office. If not, then determine if it is possible to eliminate some furniture (i.e., file cabinets) by scanning more documents and storing them electronically. Or you can possibly swap one office's furniture, fixture and equipment with another office's.
Share a draft of the new office layout plan with your staff. Solicit their feedback as they may think of things that could affect the plan's logistics that you have not considered. Make any necessary adjustments.
Schedule a non-working day to rearrange furniture, equipment, fixtures and personnel according to the layout plan. It is important to do this on an off day or when work will be slow. Make sure all equipment works before going "online" again on a regular work day. It is important to minimize as much downtime as possible.
Allow employees to add personal touches to their respective workstations/offices within their assigned workspace. Communicate office setup policies such as clutter reduction, cleanliness and keeping within a certain color scheme that matches your company's logo and culture.
Case Study
Why This Matters
If a picture is worth a thousand words, then your office's layout, aesthetics and functionality are worth a thousand pictures. Because people are so visual, having the "right" setup that stimulates a positive, efficient and productive work environment is vital to communicating competency to ensure that you attract the right customers, staff, potential partners and investors. And a happy, motivated employee is a productive employee!
What have you done to your office's layout to encourage productivity and efficiency? Please share with us in the comments section below.